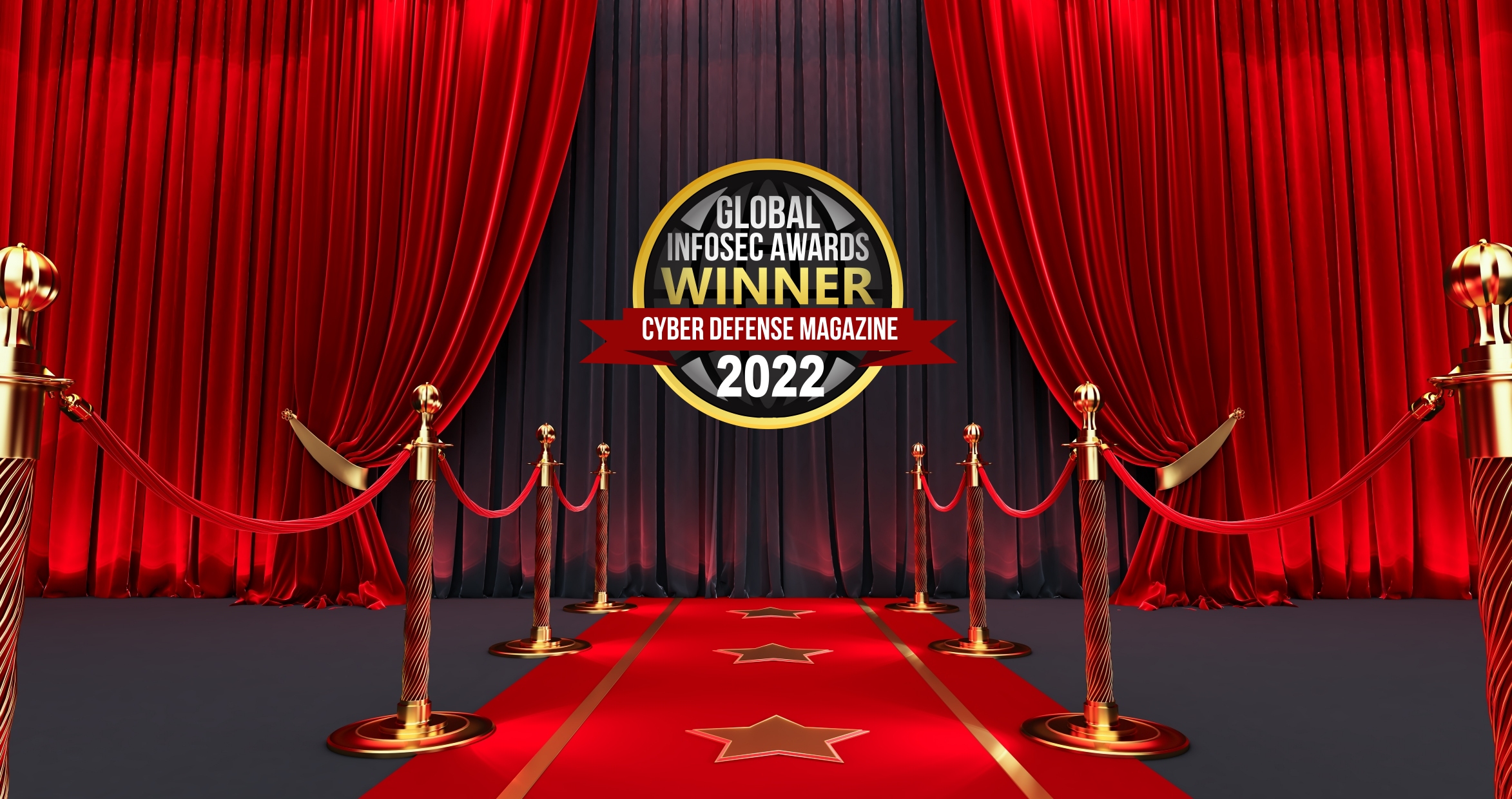 Welcome to the Cyber Defense Global InfoSec Awards for 2022

Cyber Defense Awards in conjunction with Cyber Defense Magazine is pleased to announce the winners of our prestigious annual Global Infosec Awards, now in their 9th year, here at the RSA Conference 2022 on our 10th Anniversary.
There are now over 4000 cybersecurity companies in the world and the number is still growing.  Our judges determined that approximately 10% deserve these prestigious awards in various categories, with a few we might add shortly after the show because of time constraints – it's exciting to share all these winners at https://cyberdefenseawards.com/ where the winners list is always up to date.
I've interviewed some of these winners in his https://cyberdefensetv.com/ hot seat program and on our https://www.cyberdefenseradio.com podcasts – where they had to answer difficult and challenging questions – completely unprepared and unscripted. I hope to interview more winners during upcoming Cyber Defense TV opportunities.  In addition, we've done some exciting one-hour webinars with a select group at https://cyberdefensewebinars.com/, available on demand any time.
In addition, our search focused us on startups and early-stage players to find those who could have the potential to stop breaches in a new and innovative way. It, therefore, gives us great pleasure to recognize and celebrate the accomplishments of winners, who have unique people, software, hardware, and many cloud-based solutions that might just help you get one step ahead of the next cybersecurity threat.
Congratulations to all our winners!

Gary S. Miliefsky, Chairman & CEO
Cyber Defense Media Group
Publisher, Cyber Defense Magazine
p.s.  Where do the Top CISOs in the World meet with the Top InfoSec Innovators, each year?
---
| | | |
| --- | --- | --- |
| 1Kosmos | Best Product | ID Verification |
| 1Kosmos | Most Comprehensive | Multi-Factor Authentication |
| 1Kosmos | Cutting Edge | Passwordless Authentication |
| 1Password | Hot Company | Secrets Management |
| 1touch.io | Hot Company | Data Security |
| A10 Networks | Editor's Choice | Application Resiliency for Hybrid Clouds |
| A10 Networks | Market Leader | Global DDoS Protection for Data Centers |
| A10 Networks | Most Innovative | Zero Trust ETM (Encrypted Traffic Management) |
| AB Handshake | Next Gen | Telecom Fraud Protection |
| Absolute Software | Most Comprehensive | Endpoint Security |
| Absolute Software | Market Leader | Zero Trust |
| Adaptive Shield | Next Gen | SaaS/Cloud Security |
| aDolus Technology Inc. | Most Innovative | Software Supply Chain Security |
| Advanced Onion, Inc. | Hot Company | Insider Threat Prevention |
| Advanced Onion, Inc. | Cutting Edge | Supply Chain Risk |
| Adversa AI | Next Gen | Adversarial ML Threat Mitigation |
| Airgap Networks Inc | Best Product | Micro-segmentation |
| Airgap Networks Inc | Hot Company | Remote Workforce Security |
| Alert Logic | Cutting Edge | Managed Detection & Response (MDR) |
| Alexio Corporation | Cutting Edge | Cybersecurity – Healthcare Practices |
| AlgoSec | Hot Company | Policy Management |
| Align | Best Product | Compliance |
| Align | Hot Company | SMB Cybersecurity |
| Allgress, Inc. | Editor's Choice | Compliance Automation |
| Allot | Publisher's Choice | SMB Cybersecurity |
| Allot | Cutting Edge | Telecom Network Security |
| Anitian | Most Comprehensive | Cloud Security |
| Anitian | Publisher's Choice | Cloud Security Automation |
| Anitian | Most Comprehensive | Cloud Security Posture Management (CSPM) |
| Anitian | Most Comprehensive | Compliance |
| Anitian | Next Gen | Compliance Automation |
| Anitian | Hot Company | Enterprise Security |
| Anitian | Most Comprehensive | SaaS/Cloud Security |
| Anitian | Hot Company | Security Company of the Year |
| Anitian | Editor's Choice | Zero Trust Application Protection |
| Anomali | Most Comprehensive | Cybersecurity Research |
| Anomali | Publisher's Choice | Extended Detection and Response (XDR) |
| Anomali | Most Comprehensive | Threat Intelligence |
| Anvilogic | Most Innovative | Threat Detection, Incident Response, Hunting and Triage Platform |
| AppOmni | Publisher's Choice | SaaS/Cloud Security |
| Arista Networks | Market Leader | Unified Threat Management (UTM) |
| Armis | Hot Company | Healthcare IoT Security |
| Armis | Cutting Edge | ICS/SCADA Security |
| Armis | Most Comprehensive | Internet of Things (IoT) Security |
| ArmorPoint | Publisher's Choice | Endpoint Security |
| ArmorPoint | Best Solution | MSSP |
| ArmorPoint | Next Gen | SOC-as-a-Service |
| Asimily | Best Solution | Healthcare IoT Security |
| Astrix Security | Editor's Choice | Third Party Cyber Risk Management (TPCRM) |
| AT&T Cybersecurity | Market Leader | Endpoint Security |
| AT&T Cybersecurity | Most Comprehensive | Extended Detection and Response (XDR) |
| AT&T Cybersecurity | Market Leader | MSSP |
| AT&T Cybersecurity | Market Leader | Network Security Management |
| Atlantic.Net | Publisher's Choice | Compliance |
| Attivo Networks | Cutting Edge | CIEM: IDEntitleX |
| Attivo Networks | Market Leader | Deception-based technology |
| Attivo Networks | Editor's Choice | Identity Security |
| Attivo Networks | Cutting Edge | Vulnerability Assessment, Remediation and Management |
| Authomize | Cutting Edge | Authorization for Cloud Security |
| Authomize | Market Leader | SaaS/Cloud Security |
| Avertium LLC | Most Comprehensive | MDR |
| Avertium LLC | Hot Company | MSSP |
| Axiado Corporation | Most Comprehensive | Cybersecurity Artificial Intelligence |
| Axis Security | Best Product | Access Control |
| Axis Security | Most Innovative | Zero Trust |
| Bank of America | Editor's Choice | Artificial Intelligence and Machine Learning |
| Bank of America | Market Leader | Authentication |
| Bank of America | Publisher's Choice | Cybersecurity Education – for Enterprises |
| Bank of America | Hot Company | Security Team of the Year |
| Banyan Security | Most Innovative | SaaS/Cloud Security |
| Banyan Security | Cutting Edge | Zero Trust |
| BedRock Systems Inc. | Most Comprehensive | Critical Infrastructure Protection |
| BedRock Systems Inc. | Editor's Choice | InfoSec Startup of the Year |
| BedRock Systems Inc. | Editor's Choice | Zero Trust |
| BedRock Systems Inc. | Next Gen | Zero Trust Application Protection |
| Beijing ThreatBook Technology Co., Ltd. | Best Solution | Cybersecurity-as-a-Service (CaaS) |
| Beijing ThreatBook Technology Co., Ltd. | Market Leader | Extended Detection and Response (XDR) |
| Beijing ThreatBook Technology Co., Ltd. | Cutting Edge | SaaS/Cloud Security |
| Beijing ThreatBook Technology Co., Ltd. | Publisher's Choice | Threat Intelligence |
| BetterCloud | Cutting Edge | SaaS Security |
| BigID | Hot Company | Cloud Native Security |
| BIO-key International, Inc. | Publisher's Choice | Multi-factor Authentication |
| Bishop Fox | Hot Company | Attack Surface Management |
| Bishop Fox | Most Comprehensive | DevSecOps |
| Bishop Fox | Most Comprehensive | Penetration Testing |
| BitNinja Security | Cutting Edge | Unified Threat Management (UTM) |
| BlackCloak | Next Gen | Digital Executive Protection |
| Bosch AIShield | Market Leader | Adversarial ML Threat Mitigation |
| Bosch AIShield | Market Leader | Artificial Intelligence and Machine Learning |
| Bosch AIShield | Publisher's Choice | Cybersecurity Artificial Intelligence |
| Bosch AIShield | Publisher's Choice | Vulnerability Assessment, Remediation and Management |
| BreachQuest | Publisher's Choice | Infosec Startup of the Year |
| BreachQuest | Next Gen | Security Team of the Year |
| BrightCloud | Best Solution | Threat Intelligence |
| Britive | Hot Company | Identity & Access Management |
| Bufferzone Security | Most Innovative | Endpoint Security |
| Bugcrowd | Cutting Edge | Cybersecurity Company of the Year |
| Calix | Market Leader | Network Security |
| Canonic Security | Editor's Choice | SaaS/Cloud Security |
| Carbide | Hot Company | Privacy and Security Software (SMB) |
| Certo Software Ltd | Market Leader | Mobile Device Security |
| Cervello | Best Solution | Railway Cybersecurity |
| CionSystems | Most Comprehensive | Active Directory Security Solution |
| Clarabot Zrt. | Hot Company | Unlimited Encrypted Data Sharing |
| Cloudbric | Editor's Choice | Web Application Security |
| Cloudbric | Next Gen | Zero Trust |
| Cloudrise, Inc. | Best Solution | Data Security |
| Cobalt | Next Gen | Penetration Testing |
| Cobwebs Technologies Ltd. | Next Gen | Threat Intelligence |
| Code42 | Market Leader | Insider Threat Detection |
| Cognyte | Market Leader | Threat Intelligence |
| ColorTokens | Most Innovative | Cloud Workload Protection |
| ColorTokens | Hot Company | Micro-segmentation |
| ColorTokens | Best Solution | Zero Trust for Hybrid Enterprise |
| ColorTokens | Publisher's Choice | Zero Trust Security |
| Conceal | Next Gen | Cloud Obfuscation |
| Confluera | Publisher's Choice | Cloud Security |
| Confluera | Cutting Edge | Cloud Workload Protection |
| Confluera | Market Leader | Container Security |
| Confluera | Best Product | Extended Detection and Response (XDR) |
| ConnectWise | Next Gen | Cybersecurity Content |
| ConnectWise | Best Solution | Cybersecurity Education – For Small Businesses (SMBs) |
| ConnectWise | Editor's Choice | Cybersecurity Training Videos |
| ConnectWise | Most Comprehensive | Go-to-market Agency for Cyber security Startups |
| ConnectWise | Most Comprehensive | Managed Detection and Response (MDR) Service Provider |
| ConnectWise | Most Comprehensive | Security Information Event Management (SIEM) |
| ConnectWise | Most Comprehensive | Security Team of the Year |
| Contrast Security | Publisher's Choice | DevSecOps |
| Contrast Security | Market Leader | Software Development Lifecycle Security |
| Corelight | Editor's Choice | Network Security and Management |
| CoreStack | Market Leader | Cloud Security Automation |
| CoreStack | Hot Company | Compliance Automation |
| Coro | Cutting Edge | Cybersecurity-as-a-Service (CaaS) |
| Coro | Market Leader | SMB Cybersecurity |
| Corvus Insurance | Hot Company | Cyber Insurance |
| CoSoSys | Next Gen | Data Loss Prevention (DLP) |
| Coviant | Best Solution | Privacy and Security Compliance Automation |
| Coviant | Next Gen | Secure Low Code/No Code Process Automation |
| Coviant | Hot Company | Secure Managed File Transfer |
| Cowbell Cyber | Best Product | Cyber Insurance |
| Critical Insight | Next Gen | Managed Detection & Response (MDR) |
| Critical Start | Hot Company | MDR Service Provider |
| CriticalStart | Publisher's Choice | MDR |
| Cryptoloc | Most Comprehensive | Data Export Security / Data Security |
| Cryptoloc | Next Gen | Ransomless Ransomware Protection |
| CSIOS Corporation | Editor's Choice | Cybersecurity Service Provider Auditor of the Year |
| CSIOS Corporation | Next Gen | Cybersecurity Service Provider of the Year |
| CSIOS Corporation | Publisher's Choice | Defensive Cyberspace Operations Team of the Year |
| CUJO AI | Market Leader | Cybersecurity Artificial Intelligence |
| Cybellum | Cutting Edge | Cybersecurity Internet of Things (IoT) |
| Cybellum | Most Comprehensive | Healthcare IoT Security |
| Cybellum | Next Gen | Industrial Cybersecurity |
| CyberArk Inc. | Cutting Edge | Identity Security |
| CybeReady | Hot Company | Security Awareness Training |
| CYBERGROOT LIMITED | Hot Company | InfoSec Startup of the Year |
| CyberGRX | Hot Company | Third Party Cyber Risk Management (TPCRM) |
| Cyberint | Most Innovative | Threat Intelligence |
| CyberMDX | Publisher's Choice | Healthcare IoT Security |
| CyberSaint Security | Next Gen | Compliance |
| CyberSaint Security | Next Gen | Continuous Controls Monitoring Platform |
| CyberSaint Security | Next Gen | Cybersecurity Analytics |
| CyberSaint Security | Most Comprehensive | Risk Management |
| Cybersixgill | Cutting Edge | Threat Intelligence |
| Cybervista | Best Product | Cybersecurity Training |
| Cyble | Most Comprehensive | Attack Surface Management |
| Cyble | Next Gen | Cybersecurity Analytics |
| Cyble | Most Innovative | Cybersecurity Artificial Intelligence |
| Cyble | Hot Company | Digital Executive Protection |
| Cyble | Next Gen | InfoSec Startup of the Year |
| Cyble | Publisher's Choice | Security Company of the Year |
| Cyble | Next Gen | Third Party Risk Management (TPRM) |
| Cyble | Editor's Choice | Threat Intelligence |
| Cycode | Most Comprehensive | Application Security |
| Cycode | Cutting Edge | Cybersecurity Startup of the Year |
| Cycode | Market Leader | DevSecOps |
| Cycode | Most Innovative | Software Development Lifecycle Security |
| Cycode | Cutting Edge | Software Supply Chain Security |
| CyCognito | Publisher's Choice | Attack Surface Management |
| Cydome Security | Most Innovative | Cybersecurity Start-up of the Year |
| Cydome Security | Publisher's Choice | Risk-based Vulnerability Management (RBVM) |
| CYE | Market Leader | Vulnerability Assessment, Remediation and Management |
| Cymulate | Most Comprehensive | Breach & Attack Simulation |
| Cynerio | Market Leader | Healthcare IoT Security |
| Cynet | Publisher's Choice | Extended Detection and Response (XDR) |
| Cyolo | Publisher's Choice | Security Software |
| Cyolo | Next Gen | Zero trust |
| CYREBRO | Most Innovative | SMB Cybersecurity |
| Cythereal | Most Innovative | Anti-Malware |
| Cyware | Next Gen | Threat Intelligence |
| CyZen | Publisher's Choice | Cybersecurity Services |
| D4t4 Solutions | Most Comprehensive | Account Takeover Protection |
| D4t4 Solutions | Most Comprehensive | Identity Management |
| Darktrace Holdings, LTD | Cutting Edge | Cybersecurity Artificial Intelligence |
| Darktrace Holdings, LTD | Market Leader | Enterprise Security |
| Dasera | Most Comprehensive | Data Security |
| Data Theorem | Cutting Edge | Application Security |
| Data Theorem | Market Leader | Attack Surface Management |
| Data Theorem | Most Innovative | Cloud Security |
| Datto | Hot Company | Advanced Persistent Threat (APT) Detection and Response |
| Deduce | Hot Company | Fraud Prevention |
| Deepwatch | Market Leader | Managed Detection & Response (MDR) |
| Defendify | Cutting Edge | SMB Cybersecurity |
| Delinea | Publisher's Choice | Privileged Access Management (PAM) |
| Delinea | Cutting Edge | Privileged Access Management (PAM) for Cloud Infrastructure |
| Deloitte | Publisher's Choice | Artificial Intelligence and Machine Learning |
| Deloitte | Most Innovative | Attack Surface Management |
| Deloitte | Market Leader | Cloud Security |
| Deloitte | Market Leader | Cyber Security as a Service |
| Deloitte | Editor's Choice | Cyber Security Training |
| Deloitte | Most Comprehensive | Extended Detection and Response (XDR) |
| Deloitte | Most Comprehensive | Incident Response |
| Deloitte | Editor's Choice | Insider Threat Prevention |
| Deloitte | Best Solution | Insider Threat Protection |
| Deloitte | Most Innovative | Managed Detection & Response (MDR) |
| Deloitte | Publisher's Choice | Threat Hunting |
| Deloitte | Hot Company | Threat Intelligence |
| Deloitte | Publisher's Choice | Unified Threat Management (UTM) |
| Devolutions | Editor's Choice | Privileged Access Management (PAM) |
| Difenda | Market Leader | Governance, Risk and Compliance (GRC) |
| Difenda | Most Innovative | Managed Detection and Response (MDR) Service Provider |
| Difenda | Editor's Choice | Vulnerability Management |
| Digital Silence | Publisher's Choice | Penetration Testing |
| Digital Silence | Market Leader | Ransomware Assessment |
| Dispersive Holdings, Inc. | Editor's Choice | Cloud Obfuscation |
| Don't Be Breached | Most Innovative | Database Security |
| Donuts Inc. | Publisher's Choice | Anti-Phishing |
| DriveLock SE | Cutting Edge | Endpoint Security |
| DTEX Systems | Most Innovative | Data Loss Prevention |
| DTEX Systems | Publisher's Choice | Insider Threat Prevention |
| DXC Technology | Hot Company | Security Project of the Year |
| Eclypsium | Best Solution | Firmware |
| Egnyte | Publisher's Choice | Data Governance |
| Egnyte | Publisher's Choice | Data Security |
| Egress | Most Comprehensive | Anti-Phishing |
| Endace | Publisher's Choice | Incident Response |
| Endace | Next Gen | Network Security and Management |
| Endace | Most Innovative | Packet Capture Platform |
| Endace | Next Gen | Security Investigation Platform |
| Enso Security | Publisher's Choice | Application Security |
| Ericom Software | Next Gen | Browser Isolation |
| Ericom Software | Most Innovative | Deep Sea Phishing |
| Ericom Software | Most Comprehensive | Ransomless Ransomware Protection |
| Ericom Software | Next Gen | SaaS/Cloud Security |
| Ericom Software | Hot Company | Zero Trust |
| Ermetic | Hot Company | Cloud Infrastructure Entitlement Management (CIEM) |
| Ermetic | Publisher's Choice | Cloud Security Posture Management (CSPM) |
| eSentire | Editor's Choice | Incident Response |
| eSentire | Editor's Choice | Managed Detection & Response (MDR) |
| Exterro | Most Comprehensive | Computer Forensics |
| ExtraHop | Next Gen | Insider Threat Detection |
| Fastly | Next Gen | Cloud Security |
| Feroot | Editor's Choice | Cybersecurity Startup of the Year |
| Fidelis Cybersecurity | Hot Company | Extended Detection and Response (XDR) |
| Fidelis Cybersecurity | Best Solution | Response and Cloud Security |
| FiVerity | Cutting Edge | Fraud Prevention |
| Flexxon Pte Ltd | Editor's Choice | Cybersecurity Artificial Intelligence |
| Flexxon Pte Ltd | Cutting Edge | Data Security |
| Flexxon Pte Ltd | Editor's Choice | Endpoint Security |
| Flow Security Ltd. | Hot Company | Cybersecurity Start-up of the Year |
| Fluency | Market Leader | Central Log Management |
| Forcepoint | Editor's Choice | Content Disarm and Reconstruction (CDR) |
| Forescout | Hot Company | Industrial Cybersecurity |
| Forescout | Publisher's Choice | Internet of Things (IoT) Security |
| Forescout | Most Comprehensive | Zero Trust |
| Forescout Technologies, Inc. | Publisher's Choice | Cybersecurity Research |
| Fortanix | Publisher's Choice | Confidential Computing |
| FortifyData | Hot Company | Security Ratings |
| Gigamon | Best Solution | Management and SaaS/Cloud Security |
| Gigamon | Most Innovative | Network Security |
| Gigamon | Cutting Edge | Ransomware Protection of SaaS Data |
| Global Learning Systems | Editor's Choice | Security Awareness Training |
| GM Sectec | Market Leader | Managed Detection & Response (MDR) |
| GM Sectec | Market Leader | Managed Security Service Provider (MSSP) |
| GrammaTech | Editor's Choice | Software Supply Chain Security |
| GRAYLOG | Most Innovative | Central Log Management |
| Grip Security | Editor's Choice | Cloud Access Security Broker (CASB) |
| Grip Security | Next Gen | Cybersecurity Startup of the Year |
| Grip Security | Hot Company | SaaS/Cloud Security |
| Ground Labs | Next Gen | Cyber Discovery |
| GTB Technologies, Inc. | Cutting Edge | Data Loss Prevention |
| GTB Technologies, Inc. | Most Innovative | Data Security |
| Guardsquare | Publisher's Choice | Mobile Application Security |
| Gurucul | Cutting Edge | Insider Threat Detection |
| Gurucul | Publisher's Choice | Security Information Event Management (SIEM) |
| HackEDU | Cutting Edge | Secure Coding: Developer Upskilling |
| Havoc Shield | Most Innovative | Cybersecurity Services |
| HelpSystems | Unique Solution | Data Security |
| HelpSystems | Market Leader | Process Automation |
| Hillstone Networks | Most Innovative | Extended Detection and Response (XDR) |
| Hillstone Networks | Publisher's Choice | Next Generation Firewall (NGFW) |
| HITRUST Services Corp. | Hot Company | Third Party Risk Management (TPRM) |
| Horizon3.ai | Market Leader | Penetration Testing |
| Hornetsecurity | Publisher's Choice | Email Security and Management |
| HUMAN Security, Inc. | Market Leader | Application Security |
| HUMAN Security, Inc. | Hot Company | Security Company of the Year |
| Hunters | Cutting Edge | Extended Detection and Response (XDR) |
| Hyperproof | Market Leader | Compliance |
| Hyperproof | Cutting Edge | Governance, Risk and Compliance (GRC) |
| Hyperproof | Most Innovative | Risk Management |
| Hypori | Most Innovative | Mobile Device Security |
| Iboss | Most Innovative | Cloud Security |
| Iboss | Best Product | SaaS/Cloud Security |
| IDX | Market Leader | Digital Footprint Security |
| IDX | Editor's Choice | Fraud Prevention |
| IDX | Hot Company | Incident Response |
| Illumio | Publisher's Choice | Zero Trust |
| Illusive | Most Innovative | Deception Based Security |
| Imperva | Most Innovative | Application Security |
| Imperva | Cutting Edge | Cloud Security |
| Imperva | Market Leader | Data Security |
| Imprivata | Most Comprehensive | Identity & Access Management |
| Imprivata | Next Gen | Identity Security |
| Imprivata | Market Leader | Privileged Access Management (PAM) |
| Infinipoint | Hot Company | Cybersecurity Startup of the Year |
| Infinipoint | Publisher's Choice | Identity & Access Management |
| Infiot Inc. | Most Innovative | VPN |
| Infosec Institute | Most Comprehensive | Cybersecurity Training |
| Infosec Institute | Publisher's Choice | Security Awareness Training |
| INKY | Best Product | Anti-Phishing |
| Inspired eLearning | Most Innovative | Anti-Phishing |
| Inspired eLearning | Hot Company | Cybersecurity Content |
| Inspired eLearning | Publisher's Choice | Cybersecurity Education for SMBs |
| Inspired eLearning | Publisher's Choice | Cybersecurity Training |
| Inspired eLearning | Next Gen | Cybersecurity Training Videos |
| Intel Corporation | Market Leader | Storage and Archiving |
| Intelligent Waves LLC | Editor's Choice | Cloud Workload Protection |
| Intezer | Market Leader | Incident Response |
| Intezer | Publisher's Choice | Malware Analysis |
| Intezer | Best Product | Threat Intelligence |
| INTRUSION | Editor's Choice | Intrusion Detection System (IDS) |
| INTRUSION | Next Gen | Zero Trust |
| IronNet | Editor's Choice | Advanced Persistent Threat (APT) Detection and Response |
| ITProTV, an ACI Learning Company | Market Leader | Cybersecurity Training |
| ITProTV, an ACI Learning Company | Next Gen | Security Training |
| JumpCloud | Editor's Choice | SMB Cybersecurity |
| JupiterOne | Most Comprehensive | Cybersecurity Startup of the Year |
| JupiterOne | Best Solution | SaaS/Cloud Security |
| K2 Cyber Security | Hot Company | Application Vulnerability Detection |
| Keeper Security | Editor's Choice | Data Security |
| Keeper Security | Next Gen | PAM for Cloud Infrastructure |
| Keeper Security | Market Leader | Passwordless Authentication |
| Keeper Security | Hot Company | Secrets Management |
| Keeper Security | Next Gen | Zero Trust |
| KeyAvi | Publisher's Choice | Cybersecurity Startup of the Year |
| KeyAvi | Next Gen | Ransomware Security Solution |
| KeyAvi | Unique | Self-Protecting Data Security |
| KeyAvi | Cutting Edge | Threat Intelligence |
| Keyfactor | Publisher's Choice | Identity & Access Management |
| Keyfactor | Publisher's Choice | Identity Management |
| Keysight | Most Innovative | Breach & Attack Simulation |
| KnowBe4 | Publisher's Choice | Company of the Year |
| KnowBe4 | Market Leader | Security Awareness Training |
| Konica Minolta Business Solutions U.S.A., Inc. | Most Innovative | Cloud Backup |
| Konica Minolta Business Solutions U.S.A., Inc. | Hot Company | Endpoint Security |
| Laminar | Editor's Choice | Data Loss Prevention |
| Lattice Semiconductor | Next Gen | Embedded Security |
| LexisNexis Risk Solutions | Publisher's Choice | Risk Management |
| Living Security | Most Innovative | Security Awareness Training |
| LogicHub | Most Comprehensive | Artificial Intelligence and Machine Learning |
| Logichub | Hot Company | Managed Detection & Response (MDR) |
| Lookout | Next Gen | Cloud Access Security Broker (CASB) |
| Lucidum | Hot Company | Attack Surface Management |
| Lumu Technologies | Hot Company | Continuous Compromise Assessment |
| MacPaw | Hot Company | VPN |
| Madison Alexander | Most Innovative | PR firm for Infosec Companies |
| ManageEngine, a division of Zoho Corporation | Cutting Edge | Cloud Security and Monitoring |
| ManageEngine, a division of Zoho Corporation | Cutting Edge | Identity & Access Management |
| ManageEngine, a division of Zoho Corporation | Market Leader | Security Information Event Management (SIEM) |
| ManageEngine, a division of Zoho Corporation | Publisher's Choice | Security Orchestration, Automation & Response (SOAR) |
| ManageEngine, a division of Zoho Corporation | Next Gen | User Behavior Analytics (UBA) |
| Mandiant | Market Leader | Cyber Security Book |
| Mandiant | Market Leader | Security Company of the Year |
| Masergy Communications, Inc. | Editor's Choice | MSSP of the Year |
| Microsoft | Hot Company | Anti-Malware |
| Microsoft | Publisher's Choice | Anti-virus |
| Microsoft | Market Leader | Cloud Security |
| Microsoft | Most Innovative | Cybersecurity Research |
| Microsoft | Editor's Choice | Email Security and Management |
| Microsoft | Most Innovative | Endpoint Security Agent |
| Microsoft | Cutting Edge | Endpoint Security Management |
| Microsoft | Market Leader | Identity & Access Management |
| Microsoft | Next Gen | Passwordless Authentication |
| Microsoft | Best Product | Security Essentials |
| Microsoft | Most Comprehensive | Threat Intelligence |
| Milton Security, Inc. | Market Leader | Extended Detection and Response (XDR) |
| Milton Security, Inc. | Most Innovative | MDR |
| Milton Security, Inc. | Market Leader | SOC-as-a-Service |
| Mimecast | Market Leader | Email Security and Management |
| Mimecast | Most Comprehensive | Security Awareness Training. |
| Minerva Labs | Most Comprehensive | Browser Isolation |
| Minerva Labs | Publisher's Choice | Ransomless Ransomware Protection |
| Neosec | Cutting Edge | InfoSec Startup of the Year |
| NETSCOUT | Market Leader | Network Detection and Response |
| Netskope | Next Gen | Cloud Security |
| Netskope | Next Gen | Data Security |
| Netskope | Publisher's Choice | Zero Trust |
| NetSPI | Most Innovative | Penetration Testing |
| Netsurion | Editor's Choice | Extended Detection and Response (XDR) |
| Netsurion | Hot Company | Managed Detection & Response (MDR) |
| Netsurion | Most Innovative | Managed Security Service Provider (MSSP) |
| Netsurion | Next Gen | SMB Cybersecurity |
| Netsurion | Hot Company | SOC-as-a-Service |
| Neustar Security Services | Next Gen | Managed Detection and Response (MDR) Service Provider |
| Neustar Security Services | Next Gen | Managed Security Service Provider (MSSP) |
| Neustar Security Services | Next Gen | Network Security and Management |
| Neustar Security Services | Next Gen | VPN |
| Neustar Security Services | Publisher's Choice | Web Application Security |
| NeuVector | Cutting Edge | Container Security |
| Nisos | Best Solution | Digital Executive Protection |
| Nisos | Next Gen | Threat Intelligence |
| Noetic Cyber | Cutting Edge | Attack Surface Management |
| Noetic Cyber | Best Product | Continuous Controls Monitoring Platform |
| Noetic Cyber | Market Leader | Cybersecurity Startup of the Year |
| Noname Security | Most Innovative | API Security |
| Noname Security | Hot Company | Cloud Security |
| Noname Security | Most Innovative | Security Company of the Year |
| Nord Security Inc. | Next Gen | Cybersecurity-as-a-Service (CaaS) |
| Nozomi Networks | Next Gen | Cloud-based Operational Technology (OT) & Internet of Things (IoT) Cybersecurity |
| Ntirety | Next Gen | Cloud Security |
| Ntirety | Editor's Choice | Cybersecurity Service Provider of the Year |
| Ntirety | Editor's Choice | Cybersecurity Services |
| NTT Application Security | Market Leader | Cybersecurity Research |
| NuData Security, a Mastercard company | Market Leader | Cybersecurity Service Provider of the Year |
| Nuspire | Cutting Edge | Managed Endpoint Security |
| Omada | Editor's Choice | Identity & Access Management |
| Onapsis | Market Leader | ERP Security |
| OneLogin | Cutting Edge | Identity & Access Management |
| OneTrust | Editor's Choice | Governance, Risk and Compliance (GRC) |
| OneTrust | Next Gen | Information Technology Vendor Risk Management (ITVRM) |
| Onward Security | Most Innovative | Compliance Automation |
| Open Systems | Editor's Choice | Managed Detection and Response (MDR) Service Provider |
| OPSWAT | Publisher's Choice | Critical Infrastructure Protection |
| OPSWAT | Best Solution | Web Application Security |
| Optimal IdM | Editor's Choice | Identity & Access Management |
| Optimal IdM | Cutting Edge | Virtual Directory Services |
| OptimEyes.ai | Next Gen | Threat Modeling |
| Optiv Security | Most Innovative | Extended Detection and Response (XDR) |
| Orange Cyberdefense | Most Innovative | Incident Response |
| Orange Cyberdefense | Best Product | Managed Detection & Response (MDR) |
| Orange Cyberdefense | Cutting Edge | Managed Security Service Provider (MSSP) |
| Orange Cyberdefense | Market Leader | Threat Intelligence |
| Ordr | Market Leader | Internet of Things (IoT) Security |
| Palo Alto Networks | Cutting Edge | Cybersecurity Internet of Things |
| Palo Alto Networks | Best Product | Cybersecurity Internet of Things (IoT) |
| Palo Alto Networks | Most Innovative | Healthcare IoT Security |
| Palo Alto Networks | Cutting Edge | Healthcare IoT Security |
| Palo Alto Networks | Editor's Choice | Healthcare IoT Security |
| Panorays | Next Gen | Third Party Cyber Risk Management (TPCRM) |
| Panther | Most Innovative | Security Information Event Management (SIEM) |
| Pathlock | Market Leader | Zero Trust |
| PCI Pal | Most Innovative | Compliance |
| PECB | Most Innovative | Cybersecurity Training |
| Perception Point | Market Leader | Browser Isolation |
| Perception Point | Hot Company | Deep Sea Phishing |
| Perception Point | Hot Company | Email Security |
| Persona | Best Product | Identity Verification |
| Picus Security | Cutting Edge | Breach & Attack Simulation |
| Ping Identity | Next Gen | Identity & Access Management |
| Pixm | Cutting Edge | Anti-Phishing |
| Pixm | Next Gen | Cybersecurity Artificial Intelligence |
| PKWARE | Best Product | Enterprise Security |
| PlainID | Best Solution | Identity & Access Management |
| Praetorian | Editor's Choice | Attack Surface Management |
| Praetorian | Publisher's Choice | Breach & Attack Simulation |
| Proficio | Editor's Choice | MDR Service Provider |
| Proficio | Most Comprehensive | Risk-based Vulnerability Management (RBVM) |
| Quantum Xchange | Hot Company | Cybersecurity Visionary |
| Quantum Xchange | Next Gen | Secure Communications |
| Radiant Logic | Most Innovative | Identity & Access Management |
| Radiant Logic | Hot Company | Identity Data |
| Radiflow | Editor's Choice | Breach & Attack Simulation |
| Radiflow | Editor's Choice | ICS/SCADA Security |
| RangeForce | Cutting Edge | Cybersecurity Training |
| Raytheon Intelligence & Space | Cutting Edge | Security Company of the Year |
| ReaQta | Hot Company | Cybersecurity Artificial Intelligence |
| Reblaze | Editor's Choice | Next Generation Firewall (NGFW) |
| Reblaze | Best Product | Web Application Security |
| Reciprocity | Cutting Edge | Compliance |
| Reciprocity | Hot Company | Risk Management |
| Red Access | Publisher's Choice | Web Security |
| Red Piranha Limited | Next Gen | Attack Surface Management |
| Red Piranha Limited | Next Gen | Extended Detection and Response (XDR) |
| Red Sift | Next Gen | Deep Sea Phishing |
| Red Sift | Best Solution | Enterprise Security |
| Redpoint | Most Innovative | Cybersecurity Service Provider of the Year |
| Reflectiz | Editor's Choice | Application Security |
| ReliaQuest | Cutting Edge | Extended Detection and Response (XDR) |
| ReliaQuest | Cutting Edge | MDR |
| ReliaQuest | Editor's Choice | Security Company of the Year |
| Remediant | Editor's Choice | Privileged Account Security |
| Remediant | Most Innovative | Zero Trust |
| Resec Technologies Ltd | Next Gen | Content Disarm and Reconstruction (CDR) |
| Resecurity, Inc. | Editor's Choice | Third Party Risk Management (TPRM) |
| RevBits LLC | Best Product | Endpoint Security |
| RevBits LLC | Hot Company | Extended Detection and Response (XDR) |
| RevBits LLC | Most Innovative | Privileged Access Management (PAM) |
| RevBits LLC | Next Gen | Security Company of the Year |
| RevBits LLC | Cutting Edge | Zero Trust |
| ReversingLabs | Best Product | Application Security |
| Rezilion | Most Innovative | DevSecOps |
| Rezilion | Cutting Edge | Software Composition Analysis |
| Rezilion | Hot Company | Software Development Lifecycle Security |
| Rezilion, Inc. | Next Gen | Vulnerability Management |
| Ridge Security Technology | Cutting Edge | Penetration Testing |
| Ridge Security Technology | Most Innovative | Startup of the Year |
| RiskRecon, a Mastercard Company | Most Innovative | Risk-based Vulnerability Management (RBVM) |
| Rubrik Inc. | Hot Company | Data Security |
| Sacumen | Hot Company | Cybersecurity Product Engineering Services |
| Sacumen | Editor's Choice | Cybersecurity Product Engineering Services |
| SafeLogic | Hot Company | Encryption |
| Salt Security | Next Gen | API Security |
| SAM Seamless Network | Editor's Choice | Internet of Things (IoT) Security |
| SAM Seamless Network | Unique | SMB Cybersecurity |
| Sangfor Technologies Inc. | Hot Company | Security Company of the Year |
| Satori | Market Leader | Data Governance |
| SBER | Hot Company | Cyber Security Awareness |
| SBER | Market Leader | Third Party Cyber Risk Management (TPCRM) |
| SBER | Most Innovative | Vulnerability Intelligence |
| SCADAfence | Most Innovative | Governance, Risk and Compliance (GRC) |
| SCADAfence | Next Gen | ICS/SCADA Security |
| SCADAfence | Most Innovative | Internet of Things (IoT) Security |
| SealPath Technologies S.L. | Next Gen | Enterprise Digital Rights Management (EDRM) |
| Seceon | Best Product | Extended Detection and Response (XDR) |
| Seceon | Hot Company | Managed Security Service Provider (MSSP) |
| Seceon | Cutting Edge | Security Information Event Management (SIEM) |
| Secret Double Octopus | Editor's Choice | Passwordless Authentication |
| Sectigo Limited | Cutting Edge | Enterprise Security |
| Sectigo Limited | Editor's Choice | Security Company of the Year |
| SECUINFRA GmbH | Cutting Edge | Advanced Persistent Threat (APT) Detection and Response |
| SECUINFRA GmbH | Editor's Choice | Security Information Event Management (SIEM) |
| Secure Data Recovery Services | Market Leader | Data Recovery |
| SecureAuth | Hot Company | Identity & Access Management |
| Secureframe | Best Product | Compliance Automation |
| Secureworks | Editor's Choice | Extended Detection and Response (XDR) |
| SecuriThings | Cutting Edge | Internet of Things (IoT) Security |
| Security Compass | Hot Company | Application Security |
| Security Compass | Cutting Edge | DevSecOps |
| Security Mentor, Inc. | Editor's Choice | Anti-Phishing |
| Security Mentor, Inc. | Cutting Edge | Security Awareness Training |
| SecurityMetrics | Most Innovative | Cybersecurity Book |
| SecurityMetrics | Editor's Choice | Penetration Testing |
| SecurityScorecard | Most Comprehensive | Risk Management |
| Sepio Systems Inc. | Next Gen | Hardware Access Control |
| ShardSecure | Publisher's Choice | Data security |
| SharkStriker Inc. | Most Innovative | Cybersecurity Startup of the Year |
| Shift5 | Market Leader | Critical Infrastructure Protection |
| Siemplify | Market Leader | Security Orchestration, Automation & Response (SOAR) |
| Silobreaker | Most Innovative | Artificial Intelligence and Machine Learning |
| Silobreaker | Editor's Choice | Threat Intelligence |
| Silobreaker | Cutting Edge | Vulnerability Intelligence |
| Silverfort | Most Innovative | Identity Protection |
| SilverSky | Publisher's Choice | Managed Detection and Response (MDR) Service Provider |
| Simeio | Most Comprehensive | Managed Security Service Provider (MSSP) |
| SIRP Labs | Editor's Choice | Security Orchestration, Automation & Response (SOAR) |
| Skybox Security | Market Leader | Risk-based Vulnerability Management (RBVM) |
| Skybox Security | Editor's Choice | Vulnerability Assessment, Remediation and Management |
| Skyhigh Security | Editor's Choice | Cloud Security |
| Skyhigh Security | Most Innovative | Container Security |
| Skyhigh Security | Most Comprehensive | Zero Trust |
| SlashNext | Next Gen | Anti-Phishing |
| SlashNext | Best Product | Cybersecurity Artificial Intelligence |
| Sophos | Editor's Choice | Cybersecurity Company of the Year |
| Sotero | Editor's Choice | Data Security |
| Source Defense | Next Gen | Web Application Security |
| Spin Technology | Editor's Choice | Ransomware Protection of SaaS Data |
| Spin Technology | Hot Company | SaaS/Cloud Security |
| Spin Technology | Hot Company | Secure SaaS Backups |
| Stacklet | Editor's Choice | DevSecOps |
| Stacklet | Publisher's Choice | Governance, Risk and Compliance (GRC) |
| Stellar Cyber, Inc. | Editor's Choice | Extended Detection and Response (XDR) |
| Strata Identity | Market Leader | Identity Orchestration |
| StrikeReady | Market Leader | Breach & Attack Simulation |
| StrikeReady | Most Innovative | Cybersecurity Analytics |
| StrikeReady | Most Comprehensive | Cybersecurity Artificial Intelligence |
| StrikeReady | Cutting Edge | Cybersecurity Startup of the Year |
| StrikeReady | Cutting Edge | Incident Response |
| StrikeReady | Hot Company | Threat Modeling |
| Sumo Logic | Best Solution | Cloud Security Monitoring |
| Sumo Logic | Best Product | Security Orchestration Automation & Response (SOAR) |
| Suridata | Market Leader | Cloud Security Posture Management (CSPM) |
| Suridata | Next Gen | SaaS/Cloud Security |
| SyncDog | Cutting Edge | Mobile Endpoint Security |
| Syxsense | Most Comprehensive | Endpoint Security |
| Talon Cyber Security | Editor's Choice | Cybersecurity Startup of the Year |
| Talon Cyber Security | Publisher's Choice | Endpoint Security |
| Tanium | Market Leader | Risk Management |
| Tata Communications | Publisher's Choice | Managed Security Service Provider (MSSP) |
| Tata Communications | Next Gen | Network Security Services |
| Tata Communications | Publisher's Choice | SOC-as-a-Service |
| Tata Consultancy Services Limited | Most Innovative | Cybersecurity Education – for Enterprises |
| Terranova Security | Market Leader | Cybersecurity Awareness |
| ThreatConnect, Inc | Editor's Choice | Risk Management |
| ThreatConnect, Inc | Market Leader | Security Software |
| ThreatLocker | Market Leader | Endpoint Security |
| ThreatModeler Software Inc. | Best Product | Cloud Security |
| ThreatModeler Software Inc. | Best Product | Threat Modeling |
| ThreatModeler Software Inc. | Publisher's Choice | Threat Modeling |
| ThreatQuotient | Publisher's Choice | Extended Detection and Response (XDR) |
| ThreatQuotient | Hot Company | Security Investigation Platform |
| ThreatQuotient | Publisher's Choice | Threat Intelligence |
| ThreatX | Most Innovative | Web Application Security |
| Thrive | Hot Company | Anti-Phishing |
| Thrive | Next Gen | Managed Security Service Provider (MSSP) |
| Thrive | Most Innovative | Security Team of the Year |
| Thrive | Hot Company | Vulnerability Assessment, Remediation and Management |
| Titaniam Inc. | Next Gen | Cybersecurity Startup of the Year |
| Titaniam Inc. | Best Product | Encryption |
| Titaniam inc. | Most Innovative | Ransomware Data Security Solution |
| Titaniam Inc. | Hot Company | Zero Trust Application Protection |
| Torq | Hot Company | Cybersecurity Startup of the Year |
| Torq | Hot Company | Low-code/no-code Security |
| Torq | Cutting Edge | Security Orchestration, Automation & Response (SOAR) |
| TPx | Most Comprehensive | Cybersecurity Services |
| Transmit Security | Hot Company | Identity & Access Management |
| Trellix | Next Gen | Extended Detection and Response (XDR) |
| TrueFort | Best Product | Zero Trust Application Protection |
| Trulioo | Hot Company | Identity Verification |
| TrustNet | Editor's Choice | Managed Security Service Provider (MSSP) |
| Trustwave | Best Solution | Cloud MDR Provider |
| Trustwave | Best Solution | Global MDR Service Provider |
| Tufin | Cutting Edge | Network Security and Management |
| TXOne Networks | Most Innovative | Critical Infrastructure Protection |
| TXOne Networks | Hot Company | ICS/SCADA Security |
| TXOne Networks | Best Product | Industrial Cybersecurity |
| UncommonX | Most Innovative | Security Project of the Year |
| UncommonX | Cutting Edge | SMB MSSP |
| Valence Security | Publisher's Choice | InfoSec Startup of the Year |
| Valence Security | Most Innovative | Low-code/no-code Security |
| Valence Security | Hot Company | SaaS/Cloud Security |
| Valimail | Market Leader | Anti-Phishing |
| Valtix | Most Comprehensive | Cloud Security |
| Vectra AI | Publisher's Choice | Cybersecurity Artificial Intelligence |
| Venafi | Most Comprehensive | Machine Identity Management |
| Veriff | Next Gen | Fraud Prevention |
| Verimatrix | Most Comprehensive | Mobile Application Security |
| Versa Networks | Best Solution | Network Security and Management |
| Vipre Security Group | Most Innovative | Email Security and Management |
| VMware | Best Solution | Application Security |
| VMware | Most Innovative | Insider Threat Detection |
| Votiro | Publisher's Choice | Content Disarm and Reconstruction (CDR) |
| Vulcan Cyber | Next Gen | Risk Management |
| Wabbi | Publisher's Choice | Software Development Lifecycle Security |
| WatchGuard Technologies | Cutting Edge | Cybersecurity Research |
| WatchGuard Technologies | Editor's Choice | Endpoint Security |
| WatchGuard Technologies | Next Gen | Multi-Factor Authentication (MFA) |
| WatchGuard Technologies | Hot Company | Network Security and Management |
| WatchGuard Technologies | Most Comprehensive | Security Company of the Year |
| WatchGuard Technologies | Most Comprehensive | SMB Cybersecurity |
| Wing Security | Most Innovative | Cloud Security Automation |
| Wing Security | Hot Company | SaaS/Cloud Security |
| WithSecure | Next Gen | Endpoint Security |
| WithSecure | Market Leader | MDR |
| Xmirror Security | Publisher's Choice | Cloud Native Security |
| Xmirror Security | Hot Company | DevSecOps |
| Xmirror Security | Hot Company | Self-Protecting Data Security |
| Xmirror Security | Next Gen | Software Supply Chain Security |
| XTN Cognitive Security | Editor's Choice | Account Takeover Protection |
| Zenity.io | Best Product | Low-code/no-code Security |
| Zero Networks | Market Leader | Network Security and Management |
| Zix | Cutting Edge | Email Security and Management |
| Zix | Hot Company | SMB Cybersecurity |
| Zoom Video Communications, Inc. | Cutting Edge | Security Team of the Year |
| Zuul IoT | Editor's Choice | Industrial Cybersecurity |
Personal awards:
| | | | |
| --- | --- | --- | --- |
| Darren Guccione | Editor's Choice | CEO of the Year | Keeper Security |
| Stu Sjouwerman | Publisher's Choice | CEO of the Year | KnowBe4 |
| Vijay Balasubramaniyan | Cutting Edge | CEO of the Year | Pindrop |
| Brian Murphy | Next Gen | CEO of the Year | ReliaQuest |
| Rob Davis | Most Innovative | Chief Executive Officer of the Year | CriticalStart |
| Erkang Zheng | Next Gen | Chief Executive Officer of the Year | JupiterOne |
| Sean Thurston | Editor's Choice | Chief Information Officer of the Year | KeyAvi |
| John Hammes | Next Gen | Chief Information Security Officer of the Year | Intelligent Waves LLC |
| T.J. Minichillo | Editor's Choice | Chief Information Security Officer of the Year | KeyAvi |
| Bret Arsenault | Publisher's Choice | Chief Information Security Officer of the Year | Microsoft |
| Craig Froelich | Most Innovative | Chief Information Security Officer of the Year | Bank of America |
| Shai Guday | Publisher's Choice | Chief Product Officer of the Year – Cybersecurity Startup | KeyAvi |
| Tony Cole | Cutting Edge | CTO of the Year | Attivo Networks |
| Craig Lurey | Editor's Choice | CTO of the Year | Keeper Security |
| Laurent Celerier | Publisher's Choice | Security Expert of the Year | Orange Cyberdefense |
| Bobbi Turner | Top | Women in Cybersecurity | ConnectWise |
| Simone Petrella | Top | Women in Cybersecurity | Cybervista |
| Inbar Ries, CPO | Top | Women in Cybersecurity | CYE |
| Emilyann Fogarty | Top | Women in Cybersecurity | Datto |
| Julie Giannini | Top | Women in Cybersecurity | Egnyte |
| Céline Gravelines | Top | Women in Cybersecurity | KeyAvi |
| Alina Ribeiro | Top | Women in Cybersecurity | Orange Cyberdefense |
| Dr. Marie White | Top | Women in Cybersecurity | Security Mentor, Inc. |
| Amy Nelson | Top | Women in Cybersecurity | Trusted Computing Group |
| Brittany Greenfield | Top | Women in Cybersecurity | Wabbi |
| Jen Stone | Top | Women in Cybersecurity | SecurityMetrics |
| Michelle Welch | Top | Women in Cybersecurity | WatchGuard Technologies |
| Carolyn Crandall | Top | Women in Security | Attivo Networks |
| Sarah Ashburn | Top | Women in Security | Attivo Networks |
| Pankaj Moolrajani | Editor's Choice | Application Security Posture Management Expert | Delta Dental of California |
| Cesar Pie | Editor's Choice | Continuous Improvement and Optimization Expert of the Year | CSIOS Corporation |
| Pankaj Moolrajani | Editor's Choice | Microservices Security Expert | Delta Dental of California |
| Joe Slowik | Publisher's Choice | Security Expert of the Year | Gigamon |
| Stephen Cavey | Publisher's Choice | Privacy Expert of the year | Ground Labs |
| Pankaj Moolrajani | Editor's Choice | Product Security Expert | Keep Truckin |
| Dr. Anil Lamba | Relentless | CyberSecurity and Resiliency Risk Researcher | |
| Brett Paradis | Cutting Edge | Threat Intelligence | KeyAvi |
| Kathleen McGill | Editor's Choice | Mobile Endpoint Security | Trusted Computing Group |
| Sean Thurston | Cutting Edge | Professional Cybersecurity Services of the Year | KeyAvi |