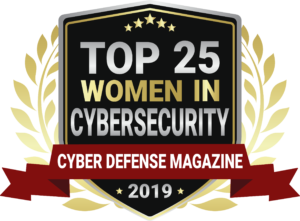 Cyber Defense Awards in conjunction with Cyber Defense Magazine is pleased to announce the Top 25 Women in Cybersecurity of 2019. We narrowed our list down to one hundred nominees and evaluations based on open source intelligence (OSINT) on these women including their LinkedIn profiles as well as numerous interviews.
Our Publisher has interviewed some of these winners in his www.cyberdefensetv.com hot seat program – where they had to answer difficult and challenging questions – completely unprepared and unscripted.  You can search at the TV site or follow those linked, below.
In addition, our search focused us on some of the top innovators, with boots on the ground, women in cybersecurity making a difference every day.  It, therefore, gives us great pleasure to recognize and celebrate the accomplishments of these deserving women in one of the most challenging and demanding fields of information technology and computing – that of cybersecurity.
Here are the winners: